BDSM videos with Madam Mysteria
... All videos available directly from Madam Mysteria ...
Madam Mysteria and Mistress Anita Divina meet in Amsterdam. They have a lot of fun punishing his small cock, balls and nipples...

Spanking session with Madam Mysteria & Calea Toxic and their slave.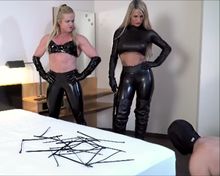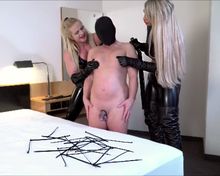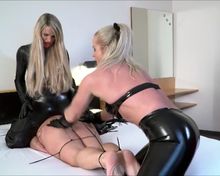 Madam Mysteria and Mistress Anita Divina fuck their slave in the mouth and the ass at the same time with their big strapons.

Madam Mysteria and Mistress Anita Divina are teaching their slave how to suck their big shiny cocks. They enjoy seeing the dildo go deep into his throat!

New Shoes Trampling - Bare Foot Trample - High Heels Trample
Fishnet Stockings - Foot Fetish
You bought me new shoes, nice black high heels, thanks...You can be the first one to kiss and clean them and then smell and worship my feet with red nails in black fishnet stockings and barefoot.
Kiss My Boots! - Free preview, enjoy!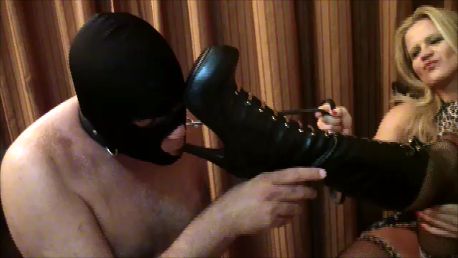 Trampling - Face and Throat Standing - Jumping - High Heels Trampling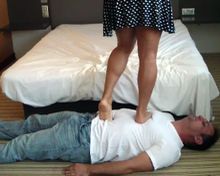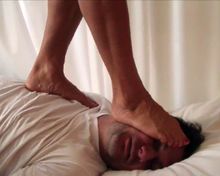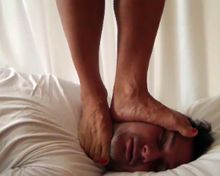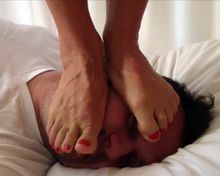 Bare Foot Trampling
Mysteria tramples Alex with her bare feet. She walks all over his body and tortures his nipples. Alex complains that she is too heavy, so Mysteria punishes him by stomping on him and making him smell her feet.
Ballbusting for beginners
Alex has never tried ballbusting before. Mysteria wants to give him his first ballbusting experience! She doesn't want to scare him and starts gently but slowly increases the speed and power of her kicks. Watch the video to find out how much pain he can stand!
Lick My Feet!
Mysteria dressed in black outfit and black stockings forces her slave to lick clean her 15 cm heels shoes. She takes her shoes off and her slave must smell her feet in black stockings. Finally she removed her stokings and he has to smell and suck her bare feet.
Madam Mysteria & BizarrBoy 2013
Facesitting, nipple play, strap-on
For full videos click on images... --> Click here for preview clip!

Clips Nipple Torture
BizarrBoy is wrapped in cling film. Mysteria tortures his nipples with clips and chain, facesits him and tramples him with her high heels...
CBT & Spanking
Madam Mysteria squeezes BizarrBoy's balls, then she ties and pulls them, spanks his balls, cock and ass with the paddle and her strong hands...
Strap On Fuck
Madam Mysteria squeezes BizarrBoy's balls, spanks him and fucks his ass with her big black strap on...
Tickling on The Sofa
Paul is trapped between Mysteria's powerful legs. Her sexy hands torture him... She tickles his armpits, belly, hips and back... Paul tries to resist and escape, but it's no use... Very soon he is totally exhausted and surrenders!


Red Boots Trampling
Forced boots worship and high heels trampling

Spandex Facesitting
Facesitting in black spandex tights Enjoy this clip...

Nails Nipple Torture
Nipple torture with red nails and front facesitting! Look at this clip!

Barefoot Punishment
Face feet slapping, forced foot worship, smothering and face trampling in this clip...
Short clips for free: Madam Mysteria in Trautenberk's Medieval Torture Chamber - Prague



Belly Punching
I decided to have "boxing training" to use BizarrBoy as "boxing bag." I had put on my black leather gloves.....and he got some really hard hits to his stomach.
Click for the clip: Mysteria_Belly_Punching.wmv





Facesitting
Bad situation for BizarrBoy - long facesitting.
Full clip at my studio: www.clips4sale.com/40190



Spanking
I like spanking! So I used BizarrBoy in my dark dungeon. I tied up his hands and I spanked his ass with my hands,then with flogger and whip. I made his ass really red.
Click for the clip: Mysteria_Spanking.wmv




Strap on
BizarrBoy had to make blowjob to my big strapon.
Full clip at my studio: www.clips4sale.com/40190



Torture
What is really painful? Spanking with flogger to cock and balls. BizarrBoy enjoyed it very much....fixed on cross...totally helpless under my control!
Click for the clip: Mysteria_Torture.wmv

For full videos and more clips check
http://www.clips4sale.com/studio/40190
Next videos will come soon... Keep watching my website!
Do you want to enjoy it "LIVE"?
Contact me...